In 1980 Johan was born,

Shortly after his birth he was already dancing in his play pen on the sound of the music that was playing.

He has known music for all of his life, when he became 19 years of age he was asked to come and play records in a drive-in show, this was the first time he was playing for a live audience.

From that moment on he knew what he wanted to do. He started saving al his money so he could invest it into his own drive-in show.

When he had his own drive-in show, he was asked to provide the sound and the music at the village festival in Usquert.

From that moment on he was asked to provide the sound, lights and the music for a couple of other festivals. From Den Helder to Hoogeveen. (All across the Netherlands).

Soon it became clear that he wanted more, so he went looking for clubs to play his records, he started at his first two clubs where he was hired as a DJ, one was in the village Winsum (pub 69) and the other one was in the village Uithuizen ( club 538).

The club in Winsum is an all-round club where all types of music is played.

More modern music is preferred in the club in Uithuizen.

More clubs asked DJ-Johan to play. Several events are graced now by DJ-Johan as he is asked to come and play and entertain.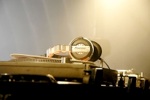 Dj-Johan is always trying to improve his ability's for playing with cd's and vinyl records. That is the main reason why he is sometimes following a couple of lessons at the DJ school in "Gorinchem".

Here he has learned beatmixen and scratchen, in the upcoming time he will participate in more lessons to become even better than he already is.

He also wants to compare his ability's with other DJ's, therefore you can find him at various contests competing against other DJ's.

In the past couple of years he has developed himself to be an all-round DJ.

"He will also perform at children parties, as well as for the disabled, he will always play with all the pleasure in his heart".

Spinning records has started as a hobby and now his hobby is getting bigger by the day, he is the happy when everybody is having a great time while he is performing what he loves to do.